Hi everyone, another important and very tragic case from Sri Lanka
An adolescent  comes in with fever, abdo pain, vomiting, lethargy and malaise. He had been sick for about 7 days and had been at the local hospital 80 km away for 24 hrs.
On presentation he had a BP of 58/25 and a pulse of 65. He had a tender abdomen which was mildly distended a few cervical and inguinal lymph nodes and bibasal crackles.
He was given NS resuscitation and was intubated and ventilated. Before long he was on Norad and dopamine.
Initial bloods showed
WCC 22.8, Left shifted
HCT 55, fell to 30 after N/S
Hb 100
Plts 25
Creat 299
Urea 45
Bilirubin 50
On day 3 when I met him, his aPTT was >300. Platelets were 5. His LFTs became grossly abnormal and his abdomen distended markedly.
USS showed lots of free fluid. We jury rigged a pressure monitor and measured his abdo pressures via his IDC as 25 (>20 = abdominal compartment syndrome). See this link

here
After FFP and platelets, I inserted a Peritoneal dialysis catheter under USS as a temporary drain and put in a femoral CVC.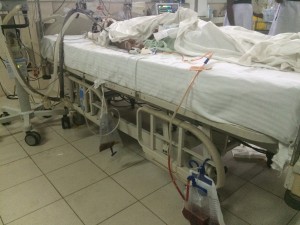 Thats the peritoneal drain on the right, NG on the left.
He had anuria for 24 hrs, and it as thought he was too unstable for CRRT as he had a BP of 84 on 3 inotropes.
That night he developed sine wave from hyperkalaemia and when I saw him again he was on calcium, HCO3 and insulin dextrose infusions. There was no choice but to try and dialyse him so I put in a vascath, but unfortunately as we were connecting up after , his BP which had been falling all day on maximum inotropes in association with the persistent K+ induced abnormal rhythm finally bottomed out and he died.
Statistically he never really stood a chance from arrival, despite the amazing efforts of the ETU and medical teams.
Summary of his major abnormalities was fever and lethargy with developing abdo pain then raised HCT which fell after NS , thrombocytopenia, renal and then hepatic failure and DIC, gross ascites with abdo compartment syndrome (pleural effusions as well).
This highlights the fortunately rare absolute worst case of a common condition. Which one is

it?