A gentleman in his 60s comes in feeling a bit rubbish. There's no chest pain but he's a bit presyncopal and feels washed out. 
Of course an ECG is done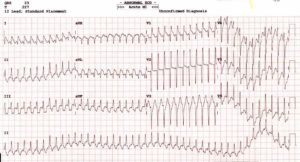 Wowsers…
What is it and why?
What would you check?
How would you treat it?
So you provide a vague vagal stimulus and this happens: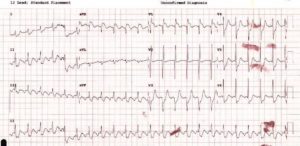 a short time later this happens…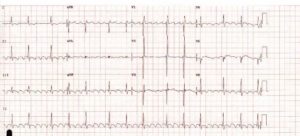 So there you go, not something you see every day, Atrial Flutter with 1:1 transmission, devolving into 2:1 block and then variable block under vagal stimulus
The tall anterior R waves suggest RVH, (patient had COPD, suggests corpulmonale) and thus  the ST changes are likely repolarization abnormality worsening under extreme tachycardia stress!
You would suspect his Right Atrium is big too, providing a structural  reason for the AF – its always big with RV overload.
What ties this all together, is that 2 main groups of patients are at risk for 1:1 flutter;
Those with accessory pathways (no obvious sign of this, but not in sinus yet) and those with COPD on bronchodilators with sympathomimetic action! 
So there it is, once again the ECG diagnoses EVERYTHING!!!